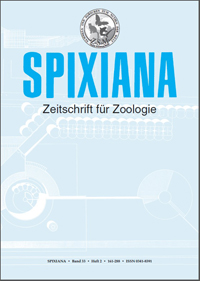 A new issue of our house journal SPIXIANA has just been published, with descriptions of 100 new taxa!
The journal is open access and PDFs are available from the Pfeil Verlag.
Table of contents
Volume 41, issue 2, Dezember 2018. P. 161-336, 13 colour and 281 black-and-white figures, 8 tables, 1 identification key.
PDF Burmeister, Ernst-Gerhard: 50 Jahre Panguana 161-166
PDF Härtl, Michael, Michael Höllein & Ulrich K. Schliewen: First record of the East Asian Yellow Catfish Tachysurus fulvidraco (Richardson, 1846) in Germany (Teleostei, Bagridae) 167-168
PDF Lehmann, Tobias & Stefan Friedrich: DNA barcoding the smaller arachnid orders from ACP Panguana, Amazonian Peru (Amblypygi, Phrynidae and Schizomida, Hubbardiidae) 169-172
PDF Simone, Luiz Ricardo L.: Lavajatus moroi, new cavernicolous Subulininae from Ceará, Brazil (Gastropoda, Eupulmonata, Achatinidae) 173-187
PDF Kampouris, Thodoros E., Vasilis Kouloumperis & Ioannis E. Batjakas: First documented record of the palaemonid shrimp Brachycarpus biunguiculatus (Lucas, 1846) from Aegean Sea, Greece (Decapoda, Caridea, Palaemonidae) 188
PDF Ermilov, Sergey G. & Josef Starý: A new species of Perscheloribates from Vietnam, with notes on the genus records in the country (Acari, Oribatida, Scheloribatidae) 189-196
PDF Niedbała, Wojciech & Sergey G. Ermilov: New species and records of ptyctimous mites from the Oriental region (Acari, Oribatida) 197-203
PDF Buchbesprechung 204
PDF Pintus, Eliana & José Luis Ros-Santaella: Assessment of reproductive traits in male gemsbok (Oryx gazella) (Bovidae, Hippotraginae) 205-209
PDF Grimm, Roland, Aaron D. Smith, Warren E. Steiner Jr. & Franz Wachtel: New synonymy and new combination in Hypogena Dejean (Coleoptera, Tenebrionidae) 210
PDF Baehr, Martin: The cyclosomine genus Sarothrocrepis Chaudoir (Coleoptera, Carabidae, Cyclosomini) 211-336 »electronic supplement«